When they first entered The Royal Mint of Spain back in season 1, Tokio (Úrsula Corberó), Denver (Jaime Lorente Lopez), Nairobi (Alba Flores), Helsinki (Darko Peric), and Rio (Miguel Herrán) all wore a realistic Salvador Dali mask and bright red jumpsuit as a disguise. Season 4 of Money Heist premieres on April 3, and the crew is still wearing the same costumes.
Today, Money Heist is one of the most popular shows on Netflix. As a result, the now-iconic costume is associated with the show, and all of its values. It's even used in real-life political protests. In this way, life is imitating art—because the same thing happens in the universe of Money Heist.
Here's what the costume means, and why it's become such a powerful symbol.
What does the
 

Money Heist

 

costume mean?

The crew wears these costumes for a simple reason: To cover themselves up while they rob the Bank of Spain and force the government to turn over their group member Rio, who is being held at a black site after being captured by the Panamanian police.

Viewers might think that the costume is simply a disguise for a crime, but it actually serves as a physical symbol of the show's theme, which is about "the resistance, indignation, and skepticism" towards "the system," as the Professor says in episode 1 of season 3.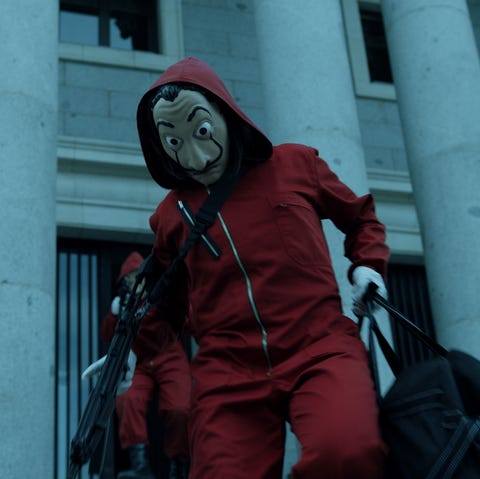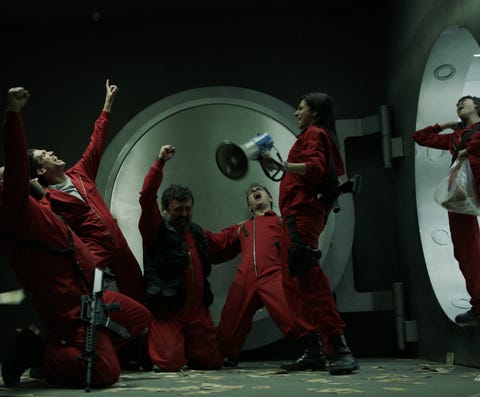 Pr
🔍Product Details